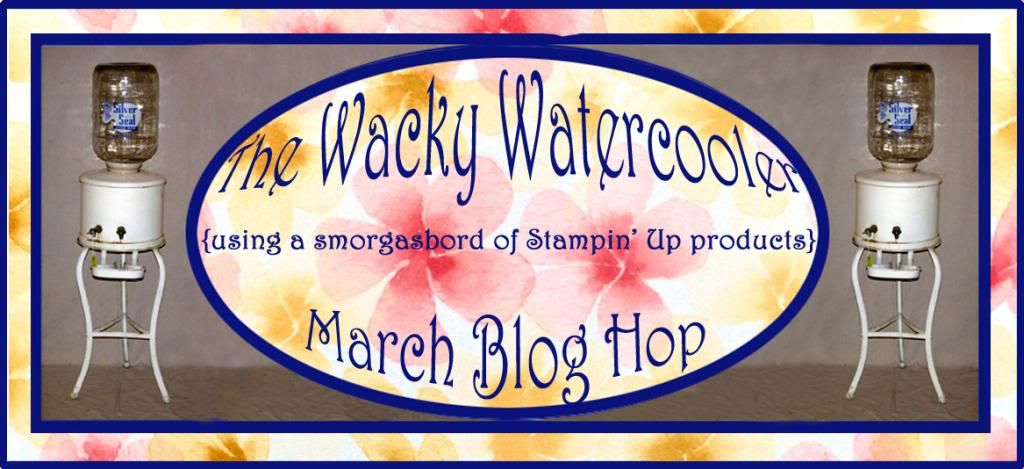 I think it's safe to say that in most places in our Stamping world, March has roared in like a lion! Nothing lamb-like about wind storms, more snow, and rain storms, that's for sure. What better reason to grab a cuppa, and settle in for another fan-tab-ulous Wacky Watercooler Blog Hop!
This time we've set a new record – we are at a Fabulous 15 participating blogs, and the addition of our wonderful Jeanne Kupsh in Germany, we're officially 'world wide'!
In case this is your first Wacky Watercooler Blog Hop, let me give you a brief introduction as to who we are. We are a group of like-minded demonstrators who have all gotten to know each other (some only virtually, some in person) through the demonstrator-only site called Stampin' Connection. (It's one of the many perks of being a Stampin' Up! Demonstrator – you meet so many amazing people, from around the world!)

We've decided that we like getting together (virtually) to create, and by the numbers of viewers from our past Blog Hops, we're guessing that you enjoy it, too! So we've started doing these Hops monthly, and we hope you'll keep coming back to join in the fun!
The Hop runs in a circular fashion, so no matter where you started, as long as you keep clicking on the "Next" button, you'll go through all the particpating blogs. If you like to 'hop around', you will find a list of all participating blogs at the end of this post, as well as by clicking on the "Home" button, which will take you to the Wacky Watercooler home site.
Technically, my blog is 'first' on the list of blogs, but you may have come here from the 'Home' page, or from another blog. Either way, I hope you enjoy the projects I have to offer, and keep on 'hopping'!
Here's my first project – I have to say, I am so excited about this one, that I even sent out a 'sneak peek' on Instagram!! It's my first time doing this project – which, when you first see it, looks like an pretty chill little box….
….until you open it – then "BOOM"!
It's an Explosion Box!!
How cool is this?! Now you see why I was so thrilled 🙂 The box itself is easy to construct, but filling it in can take a bit of time – especially if you're like me, and agonize over the placement of every flower and butterfly! LOL
I have to share some close-up pictures of the 4 panels and the centre flowers with you – after all, I did take the time to make them, so I have to show them off! 🙂
These are the 4 panels, which I decorated with butterflies using the Beautiful Wings Embosslits and the Elegant Butterfly Punch. I used strips of Window Sheets to help the butterflies 'fly'! The flowers were made using a combination of the Boho Blossoms Punch and the 1 1/4" Scallop Circle Punch, and made from Creped Filter Paper coloured by spritzing it with reinkers and alcohol mixed in the Stampin' Spritzer.
How about these flowers – aren't they gorgeous?! No, I'm not just lovin' on myself, here – I really do love the new Spiral Flower Die, and when you pair it with new Fringe Scissors , you can see the terrific results. I'll be posting a tutorial in a the next day or so on how to do the 'full fringe' and the 'partial fringe' with the die, so make sure you come back & check out my Tutorial page!
Supplies Used:
Cardstock: Summer Starfruit, Crisp Cantaloupe, Pool Party, Pistachio Pudding
Designer Series Paper: Soho Subway (#130140), Sweet Sorbet (#133521-FREE during SAB)
Inks: Summer Starfruit, Crisp Cantaloupe Classic Ink Pads; Pool Party and Crisp Cantaloupe Re-inkers
Tools: Big Shot (#113439), Magnetic Platform (#130658), Chalk Talk Framelits (#129983), Beautiful Wings Embosslits (#118138), Elegant Butterfly Punch (#127526), Bird Builder Punch (#117191), Boho Blossoms Punch (#119858), 1 1/4" Scallop Circle Punch (#127811)
Other: Creped Filter Paper (#129392), Stampin' Spritzer (#126185), Candy Dot Brads (#132293), Window Sheets (#114323), Fringe Scissors (#133325), Stampin' Dimensionals (#104430), Anywhere Glue Sticks (#104045), Sticky Strip (#104294)
Easter is on it's way, and so is the Easter Bunny! My next project was also such fun, because I put the Fringe Scissors to use again, plus I just love the cute little bunny in the Eggstra Spectacular stamp set! 🙂
What do you think – does it look like the Easter Bunny just hid some eggs, and is now on moving on? Tee hee! I wanted to add some visual interest to this card, so I created 'layers' of grass in which to hide the eggs, and made a little frame for the special bunny 🙂
Here's a side view, so you can see how I made the layers – popped up each one with Dimensionals, so that I could still hide the eggs.
Supplies Used:
Cardstock: Whisper White
Designer Series Paper: Fresh Prints Paper Stack (#132996), Watercolour Wonder (#132994)
Stamp Set: Eggstra Spectacular (#133071cm, 133068wm)
Inks: Early Espresso Classic Ink Pad
Tools: Fringe Scissors (#133325), Large Oval Punch (#119855), Ovals Collection Framelits (#129381), Labels Collection Framelits (#125598), Big Shot (#113439), Magnetic Platform (#130658)
Other: Daffodil Delight Ribbon (clearance rack), Stampin' Dimensionals (#104430)
Finally, what's Easter without some chocolate eggs? It just wouldn't happen in my house, so I decided to make some special holders for one of my favourite Easter treats – those wonderful, gooey Cadbury Eggs! Connie Stewart over at Simply Simple Stamping shared this oh-so-cute tutorial, so I just had to try it out.
Can you imagine the smiles when someone receives one of these little cuties?! You'll notice that they are each just a tiny bit different – not just because I used a different background stamp on each one, but because I mis-judged the placement of the punch (too high!) on the one on the right! But it still looks okay, right?
Here's a close-up of the cute little chicks – so easy to make, but so cute! A few punches, a few snips, and you have your egg and chick!
For the top, since I don't yet have the wonderful new Tag Topper punch (it's currently on back-order), I used the Labels Framelit Collection to shape the top of the little egg holder, and used the punches from the Itty Bitty Shapes Punch Pack so I could thread my ribbon through to hold it closed.
Supplies Used:
Cardstock: Pistachio Pudding, Whisper White, Daffodil Delight
Designer Series Paper: Sweet Sorbet, Watercolour Wonder
Inks: Daffodil Delight, Pistachio Pudding
Stamp Sets: Eggstra Spectacular (#133071cm/133068wm), Easter Blossoms (retired)
Tools: Big Shot (#133439), Labels Collection Frameltis (#125598), Designer Frames Embossing Folder (retired), Large Oval Punch (#119855), Blossom Punch (#125603), Boho Blossoms Punch (#119858), Itty Bitty Shapes Punch Pack (#118309)
Other: Stampin' Dimensionals (#104430), Multipurpose Liquid Glue (#110755), Stampin' Sponges (#101610), Daffodil Delight Seam Binding (#125583), Paper Snips (#103579)
Well, I hope you've enjoyed seeing my projects as much as I enjoyed making them! Next on the Blog Hop is the amazingly talented Jackie Susnick – click on the 'Next' link below if you'd like to Hop forward; if you'd like to Hop backwards, you can go to Bev Q.'s blog by clicking the 'Previous' Button, or you can Hop to our Home page by clicking – you guessed it! – the 'Home button! You can also randomly visit all of the blogs whenever you like; the full list is at the bottome of this post, as well as on the Home page.
Thanks for visiting – if you have time, I'd appreciate any comment you'd like to leave for me! Happy Hopping!
List of Participating Blogs: in order of appearance
~Deborah Smart – www.stampandcreate.net (you are here!)
Jackie Susnik – www.jackotterstamp.blogspot.com
Susan Horr – http://susanstamps.wordpress.com
Marsha Reed – http://www.coffeepotstampingcafe.com
Heidi Weaver – http://heidistampinalong.blogspot.com/
Jean Fitch – http://jlfstudio.wordpress.com/
Jeanne Kupsh – http://happy-jeannie.blogspot.ca
Christine Giuda – http://www.dancinstamps.blogspot.com
Kath R. – http://kath-allthatscrap.blogspot.com/
Gail Allen – http://stampingandotherstuff.blogspot.ca/
Stefanie Pletscher – http://craftymedic.blogspot.ca
KatheD – http://kathesadventure.blogspot.ca
Buffy Cooper – http://buffycooper.com/
Terri Antoniw – http://stampwithter.blogspot.ca
Bev Q – http://stampwithbev.blogspot.ca/
Home Page – Wacky Watercooler Stamping – http://wackywatercoolerstamping.blogspot.com
Until next time – Happy Stamping!